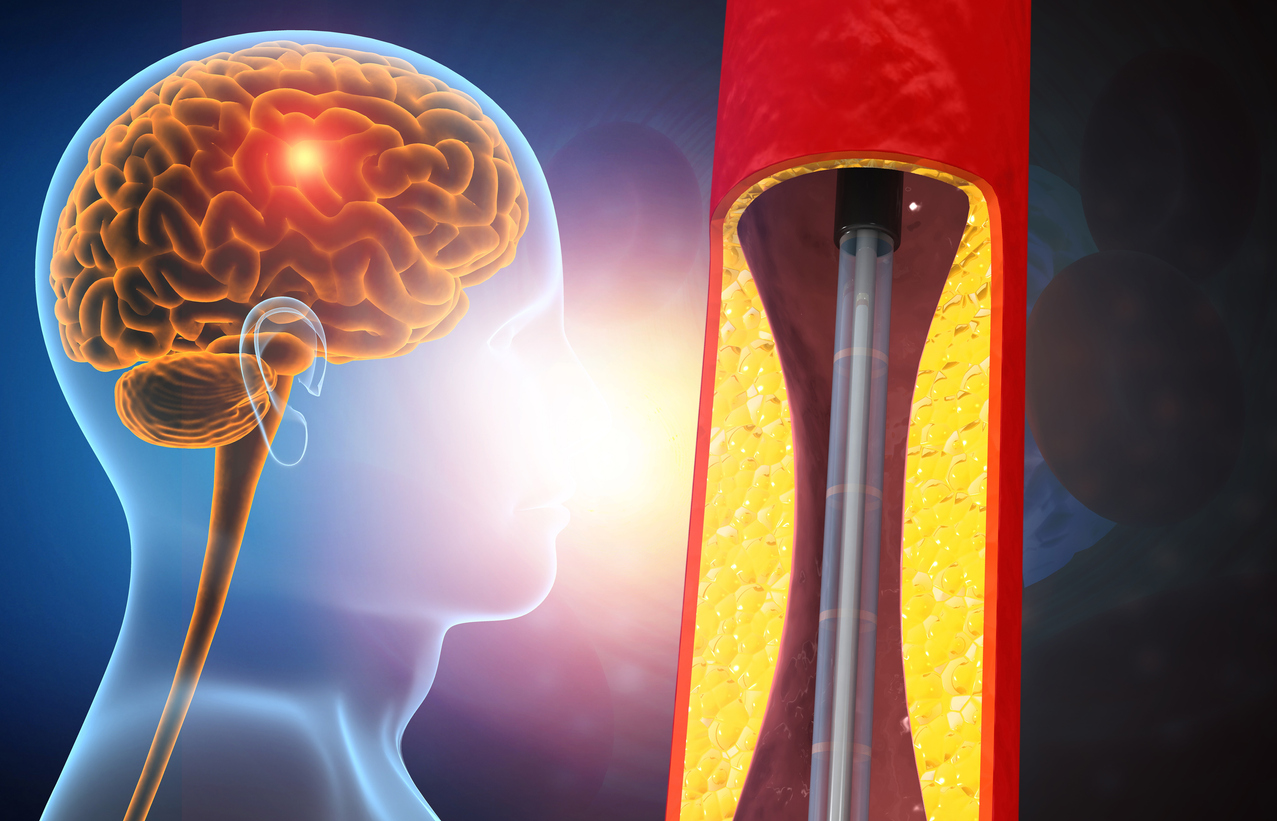 Carotid artery disease, also known as carotid artery stenosis, is a common condition that is usually caused by atherosclerosis (hardening of the arteries). The carotid arteries bring blood to the brain so it may function. When plaque builds up in the carotid artery, a piece can break off traveling to the brain and block one of the smaller arteries in the brain.
Alternatively, the flow can be reduced so much that the narrowed artery does not allow adequate amounts of blood to reach the brain resulting in a stroke or transient ischemic attack.
Do I Need to Treat Carotid Artery Stenosis?
The decision to treat carotid artery disease is a complicated one and must take into account many individual factors. These might include degree of narrowing (stenosis), overall medical condition, prior symptoms, response to medical treatment among many others. Most people with carotid stenosis can be treated with medications and do NOT need further intervention. Leading a healthy lifestyle, getting at least 2.5 hours of exercise weekly, maintaining a healthy weight, while monitoring your condition closely using ultrasound examinations may be all that is necessary. Certain medicines have been shown to be helpful in patients with carotid artery disease as well. However, there are instances when the plaque must be treated to avoid devastating consequences such as a major stroke.
3 Top-Notch Treatment Options for Carotid Artery Disease
1. Carotid Endarterectomy
A carotid endarterectomy, also known as a CEA, is the standard procedure when intervention is necessary. It involves directly removing the plaque from the artery through an incision in the neck. The artery is then closed with a patch to make it bigger and less likely to become narrowed again.
What to Expect During the Procedure
You will receive either a general or local anesthetic prior to your procedure to keep you comfortable throughout the entire process. Once that is taken care of, we will make an incision in the neck. Through this incision, we will remove your arterial plaque and repair the artery.
2. Angioplasty and Stenting

Angioplasty and stenting may be recommended to treat carotid artery disease and mitigate the risk of a potentially fatal stroke. This procedure, while newer than surgery, is time-tested with excellent results. The general idea is that we will stretch the artery to widen it and then keep it widened and open with a metal stent—something akin to Chinese handcuffs you played with as a child.
What to Expect During the Procedure
Before this procedure begins, we will administer an anesthetic and blood-thinner. Then, we will insert a catheter into your artery with X-ray guidance. We use a filter (an embolic protection device) to prevent any of the plaque from traveling up to your brain when we stretch the artery. Once the artery is widened, we pass a stent up to the area that was originally narrowed, deploy and inflate it.
3. TransCarotid Artery Revascularization (TCAR)

TransCarotid artery revascularization, often referred to as TCAR, is similar to angioplasty and stenting in that it involves the use of a balloon and a stent rather than removal of the plaque. This is a relatively new procedure with outstanding results. Our physicians are the leaders in the tristate area having performed well over 150 of these procedures with superior outcomes.
What to Expect During the Procedure
Before this procedure begins, we may administer a general or local anesthetic. We will determine which anesthetic is right for you during your initial consultation based on your heart and lung health. Once you are prepared for your procedure, we will make a very small incision just above your collarbone. Through this small incision, we will insert a small sheath (tube) into your carotid artery. A second sheath will be placed into your femoral vein in the groin. This allows us to "reverse flow" to the brain so that no pieces of plaque travel up to the brain during the balloon angioplasty portion of the procedure. Following the angioplasty, the plaque in your carotid arteries will be stabilized with a carotid stent.
Schedule Your Initial Consultation Today
If left untreated, carotid artery disease can lead to a TIA or stroke. Unfortunately, treating this condition at home isn't always enough. If you've been diagnosed with carotid artery disease, Contact Us today to find out which treatment option is right for you: medical therapy, angioplasty and stenting, carotid endarterectomy, or transCarotid artery revascularization (TCAR).