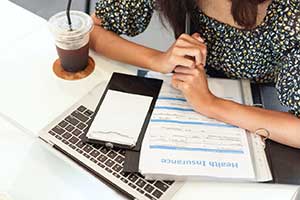 This is a common topic that we get asked about on a daily basis. And as insurance companies become more stringent with their requirements of what can or cannot be covered during a varicose vein procedure, we thought it would be important to address this subject once again.
As mentioned, this a common question and the answer can change frequently as each insurance carrier has their own, unique set of guidelines. However, to best serve you, our patient, we strive to stay abreast of this situation so you can be better informed on the cost and the various procedures that can be involved with your varicose veins.
Are Varicose Veins Only a Cosmetic Issue?
It is a common misperception that varicose veins are only a cosmetic issue, and that people want treatment only to improve the appearance of their legs. While this is sometimes the case, we know that the treatment of varicose veins is not for cosmetic purposes alone, but is quite often a medical necessity.
So, "Will insurance cover my varicose vein procedure?" As part of our core values of transparency, integrity and thoroughness, we have outlined below some of the indicators we believe the insurers evaluate when deciding if they should pay for a procedure. It is NEVER the physician who makes the determination of coverage—that is a decision made by your insurer based on the medical condition you have.
These guidelines represent the current policies of most insurers but are subject to change. These guidelines also use some complex medical jargon that you, as the patient, may find tongue-tying and a bit overwhelming. As always, we're here to help. We can answer your questions during the initial consultation and clarify the terminology. In the meantime, this information should assist you with becoming more familiar with the insurance requirements that you and our doctors need to follow.
Vein Insurance Requirements
All of the insurance companies today (with a few exceptions) follow similar protocols. The following are recommendations for insurance coverage of varicose vein treatments that involve Radiofrequency Ablation (RFA), Endovenous Laser Treatment (EVLT), Microphlebectomies, Varithena and VenaSeal:
Conservative Measures: Insurance companies want you to wear compression stockings for at least 3 months to see if these have a beneficial effect on your symptoms. We have found some insurance companies will eliminate the 3-month test period for patients with ulcers and/or bleeding.
Venous Reflux Study: Within a 6-month timeframe, a doctor must document your medical history and check the blood flow in your legs using an ultrasound to see if there is reflux. Reflux occurs when the valves in the veins of the legs are not working properly inhibiting the return of blood to the heart from the lower extremities causing swelling, heaviness and, sometimes, varicose veins. The study should identify a vein diameter for the GSV (great saphenous vein) of 5.5 mm or more just below the saphenofemoral junction. Vein size for the SSV (small saphenous vein) should be 5.0 mm or more near the saphenopopliteal junction.
Activities of Daily Living (ADL): Your daily activities should be significantly altered by your veins in order for the insurer to cover the cost of care. Knowing what you do for a living and how daily life has been affected is important. In addition, the report must show the ultrasound results, the fact that conservative measures (e.g., stockings) have not been successful, and the proposed treatment that you would need.
Photo Documentation: It is important to provide visual images of the veins, their sizes, and what side of the body the veins are on.
CEAP Documentation: CEAP is a classification system for veins. While everyone may be a little different with their vein issues, this method provides a standard way to talk about veins. CEAP is required in all documentation.

The CEAP acronym stands for:
Clinical – what the patient's veins look like
Etiology – whether the problem is inherited or not
Anatomy – which veins are involved
Pathophysiology – in which direction the blood is flowing (either normal or abnormal flow) and whether blood flow is blocked
It's important to note that sclerotherapy injections for spider veins and laser therapy on most areas of the body are not covered by insurance when it is considered to be for cosmetic purposes. However, sclerotherapy may be covered for chronic venous insufficiency, bleeding veins or ulcers.
As you can see, there are many protocols that must be followed. These protocols should not be a deterrent to seeking the medical and health outcomes you desire. It is our job and our staff is well-versed in the current procedures. We are here to guide you through this. Based on the treatment recommendation of our board-certified vascular physician, we will submit the treatment coverage request to your insurance company, and your procedure will be scheduled after your insurance plan has approved your treatment (around 14 days after the request was submitted).
If you have any further questions regarding what is covered for your vein treatment, please contact us. In the meantime, feel free to Schedule an Appointment and get on the path to the legs you want.
Learn more about how much a procedure will cost. Download our Pricing eBook.