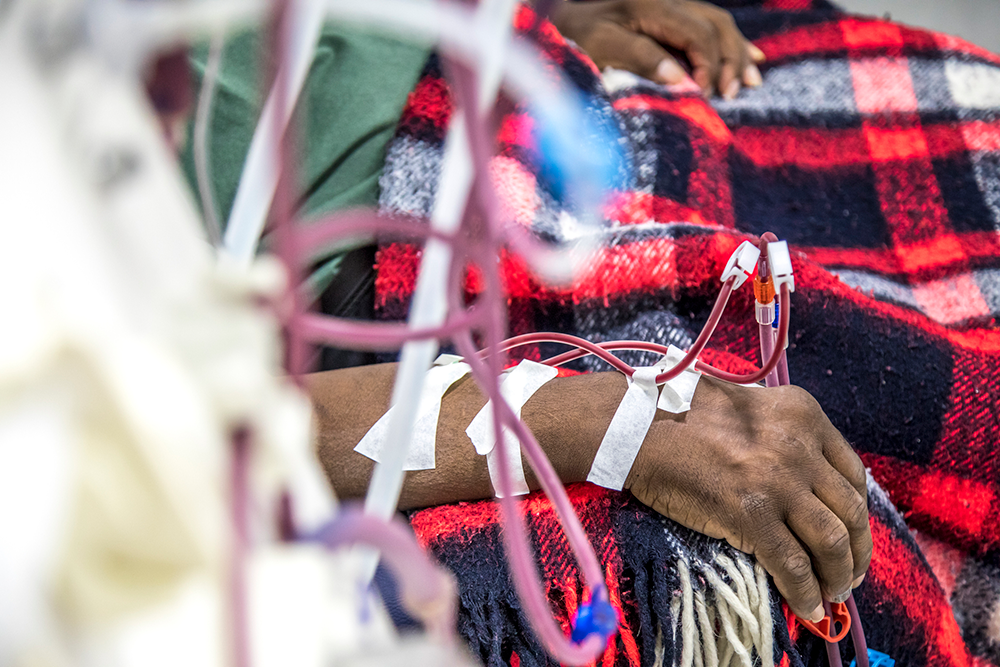 As a follow-up to our previous hemodialysis post regarding the difference between an arteriovenous fistula (AVF) and an arteriovenous graft (AVG), this article focuses on understanding hemodialysis access problems and the important role a vascular surgeon plays in not only creating dialysis access, but in maintaining, protecting and/or restoring a patient's access.
It is very important for all new and existing patients undergoing hemodialysis to understand their access. The access functions as a lifeline allowing one to continue to receive adequate hemodialysis. The three types of accesses are arteriovenous fistula (AVF), arteriovenous graft (AVG), and tunneled catheter. It is critical for patients to be aware of access dysfunction early as saving an access that is in the process of failing yields better results than treating it after it has completely shut down and failed. Depending on the type of access, the inherent problems associated with them may be different.
Develop a Plan
Perhaps the most important takeaway here must be that the patient and the vascular surgeon must be in agreement and have a plan for the future. No access will last forever and when an access fails, there may not be a convenient time to make plans to fix it. The patient must understand what the next steps are — fixing the current access may serve as "Plan A", but the next step ("Plan B") must be known in advance. Only a vascular surgeon, capable of performing all of the possible access options, can plan this — with the patient — appropriately.
AVF and AVG Access Problems
For patients with either AVF or AVG, problems with access function may present with the following:
Pain in the affected extremity during dialysis treatments,

Machine alarming or warning lights on the dialysis machine during dialysis treatments, related to abnormal pressures in the dialysis circuit,

Excessive bleeding when the needles are removed after dialysis is complete,

Increase "thumping" (or pulsatility) to the access, or

An abnormal monthly report card that addresses the quality of the dialysis treatment being received


It is also very important for patients with extremity access to inspect their arms on a regular basis. Thinning or increased "shininess" of the skin could be a sign that the access wall is weakening. Encouraging the dialysis caregivers to rotate needle sticks on a regular basis in order to preserve the access is very important.
Another complication that occurs in patients with extremity access is the development of a pseudoaneurysm. A pseudoaneurysm occurs when the access begins to degenerate and a small bump appears on top of it. In many cases, this can be prevented by applying adequate pressure when needles are removed from the access after a dialysis treatment is completed. Patients with uncontrolled blood pressure as well as those on blood thinners may be more prone to developing pseudoaneurysms.
Many of these issues can be easily addressed by scheduling regular visits with an access vascular surgeon. A dialysis access surgeon will explain the procedure and perform the physical exam focusing on the arm or leg selected. They can teach patients how to detect an early infection associated with extremity access. Infections may present as a red and tender area along the extremity access. Access infections may also be associated with fever and chills that occur before, during, or after dialysis treatments. Rest assured, though, a vascular surgeon will be available to manage any issues that may occur.
Tunneled Catheter Issues
Tunneled catheters are associated with a higher incidence of problems when compared to extremity access. This is because the catheter itself is partly outside and partly within the body. It is very important to keep the catheter clean and dry in order to prevent any bacterial contamination from occurring that may ultimately seed the vascular system.
Tunneled catheter related infections may present with fever and chills that occur before, during, or after dialysis treatments. Patients who currently are receiving dialysis via a tunneled catheter and are considered to be candidates to have an extremity access created, should be evaluated on an urgent basis to have this done in order to avoid complications.
If you or someone you know have any questions or concerns about hemodialysis treatment and access, contact one of our board-certified vascular surgeons today. We're here to help you and keep you healthy!